Before you start make sure you have read our previous blog post that looked at whether you can get good enough fixings in your wall for the brackets required and if not what the options are.
Want the functionality of a track but the aesthetics of a pole? Why not go for a metropole, metroflat or a corded wooden curtain pole? We also consider wooden bay window poles in this blog.
What is a metroflat/pole?
A metropole (or metroflat) is a curtain pole that functions like a track, gliders contained inside the profile carry the curtains. There is no need for rings or passing brackets, curtains travel the length of the track unhindered – however long! Hand, cord or electrically operated, you can choose between different pole sizes, colours and decorative finials. They can be bent to fit bay windows or any other shape of walls. Made to measure, every pole is tailored to your exact specifications.
At County Fabrics we have fitted many of these tracks and they always work brilliantly. We tend to find that those seeking a more contemporary finish may choose a metroflat that (as the name suggests) has a flat profile whereas the metropole is a more traditional look for those seeking the look of a pole but the smooth running of a track.
Silent Gliss make this product and however there are other options available from different suppliers such as the Renaissance Distinction range. We have samples of all these products and the colour/finial options to view in the showroom.
Our largest of these displays is an anthracite metroflat. Half is fitted with wave gliders and the other half with standard gliders so you can see the difference. If you are considering a wave heading style a metropole is a great option (although there are other curtain tracks that also work with a wave system). Arms can be fitted on the leading edge to help the front wave sit straight and flat. We also like to make our wave curtains with the wave weights again to help the leading edge sit perfectly. Please take alook at an example of our work here.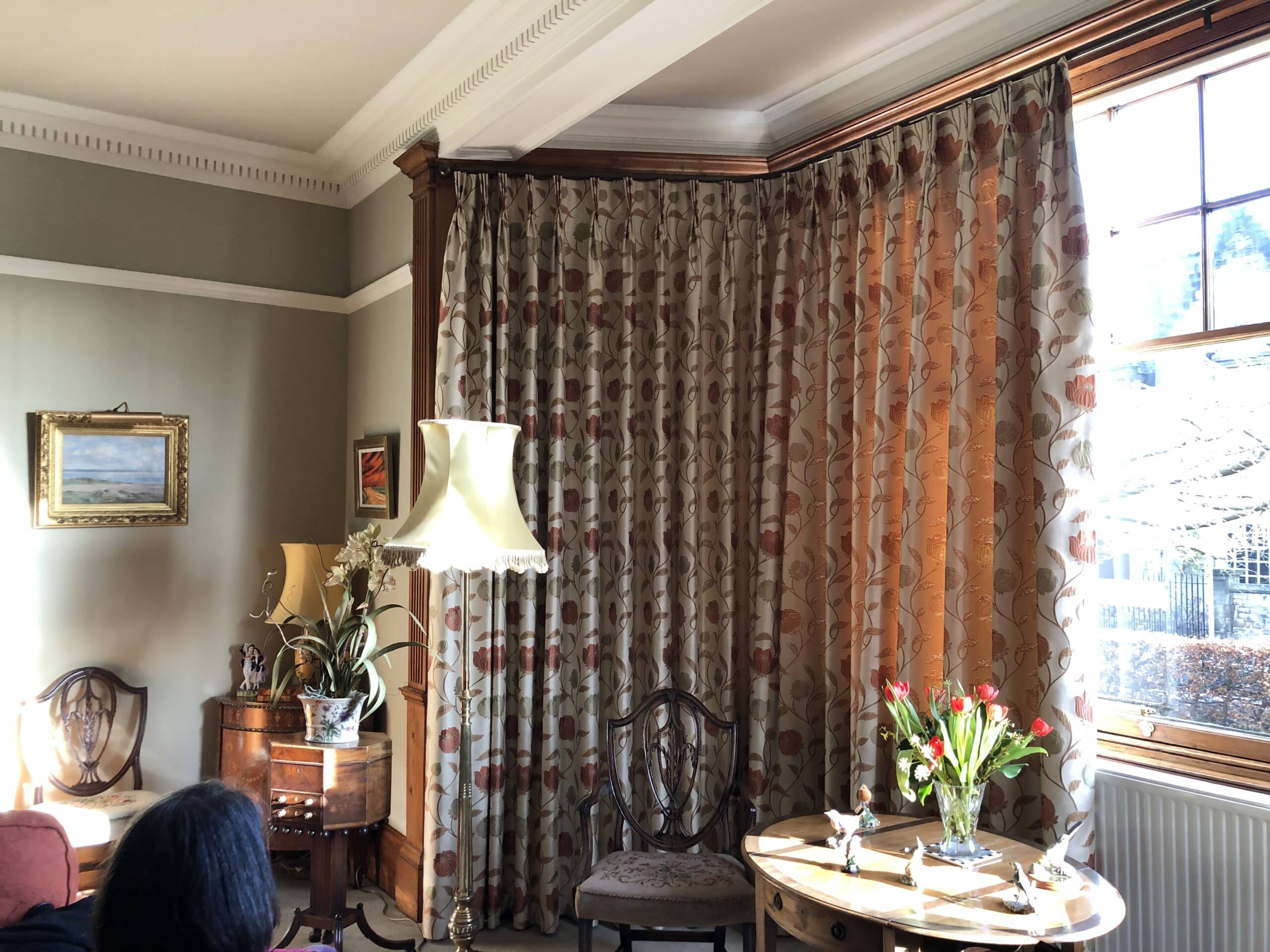 Curtain pole with integrated tracking
Some wooden curtain poles can now be supplied with integrated curtain tracking. This has the benefit of a curtain track but the look of a pole. You also don't need the rings so it creates a simple clean finish for your curtains therefore really showing of the fabric selected. The poles can be corded or uncorded.
We have a 45mm and 67mm wooden pole with integrated tracking on display in the shop for you to see and try. The poles work beautifully with hand sewn pinch pleat headings , or a simple pencil pleat.