Architects love them, we love them, aesthetically they are stunning but we sometimes wonder if before putting these windows into your property (or inheriting them upon purchase) that there has been a conversation about how you are going to dress your apex, arched or angled curtains. Whether for privacy, to block light or protection from sun damage some of these windows need to be dressed.
At County Fabrics we love watching Grand Designs, Your Home Made Perfect, Amazing Small Spaces etc etc and it is always fantastic when clients bring in pictures of their beautiful homes or extensions they have built with lots of lovely glass. Over recent years we see apex and all sorts of angled windows appearing more and more. When it comes to curtains what are your options?
We have made and hung curtains on numerous apex windows and have learnt lots of top tips along the way. We also have a sample in the store for you to come and look at:
What track to use and fitting the track
We use a good quality metal curtain track but it does not need to be a top branded product as the curtains are not actually going to run along the track.

We then fit lots of stoppers along the length of the track to stop the curtain slipping down the rail.

The tracks can be top or face fixed depending on the space available between the window and the ceiling.

Top fixing is often the best option if limited or no space is available to avoid having to damage window frames.
Ensure you have good fixings – we often suggest customers fix a wooden batten first and paint it the same colour as the wall or ceiling.

There could be a reasonable amount of weight in these curtains so having good fixings is absolutely vital!
Heading style
Any style is possible but the most frequently used (and our favourite) is a simple 1 inch pencil pleat.

Using a small heading means that the curtains hang straight down vertically from the track rather than going out to the side and down.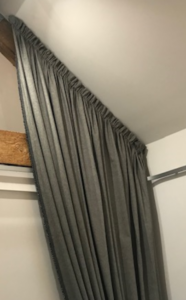 Finished length
Apex curtains and the appropriate finished length can cause a bit of debate! When you open the curtains, the leading edge has to rise up off the ground to enable the curtain to be tied back.

The longer the curtains the nearer the leading edge will sit to the ground when the curtains are open. We therefore always ask customers to consider having a puddle to your apex curtains.

There is no right or wrong as to how much this should be.

This is discussed on a customer to customer basis.
Tie backs
To hold the curtains open you will need a tieback or hold back.

We recently had a customer who ordered 2 sets of tie backs in different lengths so she had an element of control over how much she could open or close the curtains.

We thought this was a really good idea.
You may want to consider having two hooks to hold your tiebacks at each side.

One can be hidden behind the curtain. This will depend on the weight of the fabric chosen and the quality of your walls/fixings!
Voile apex windows
All the above advice is also relevant if you choose a voile / sheer fabric for your apex curtains.

It is also possible to fit a double curtain on an apex i.e with a voile behind and a main fabric to the front.

Another option to consider would a double voile curtain.

We made and fitted one on an arched window with a light coloured voile to the rear that was mainly kept closed for privacy and a grey voile to the front.

The client closed the front grey voile in winter for a warmer, thicker feel to the curtains.
Add a pelmet?
To hide the top of the curtains/track you can consider a small pelmet (similar to a roman blind pelmet.

These would be made to measure and fitted on site.

Please enquire for further details.